Clothed, Seated Chair Massage
Office massage is really effective way to boost the feel-good factor, whilst reducing stress and muscular problems for your team. In fact, it's the most popular and highly acclaimed service at the workplaces we visit nationwide because it feels so good!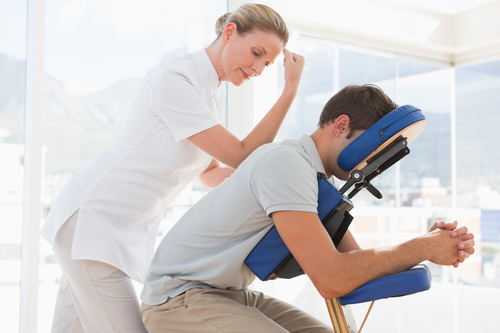 £77,500,000,000 is lost per year due to sickness, or illness-related underperformance – An amount that the human brain has trouble comprehending!
Sickness due to musculo-skeletal disorders is the largest cause of days lost after minor illnesses (coughs and colds etc.), so this is a perfect way to fulfil your responsibilities to the health and wellbeing of your teams, whilst also giving them an enjoyable and healthy "work perk"!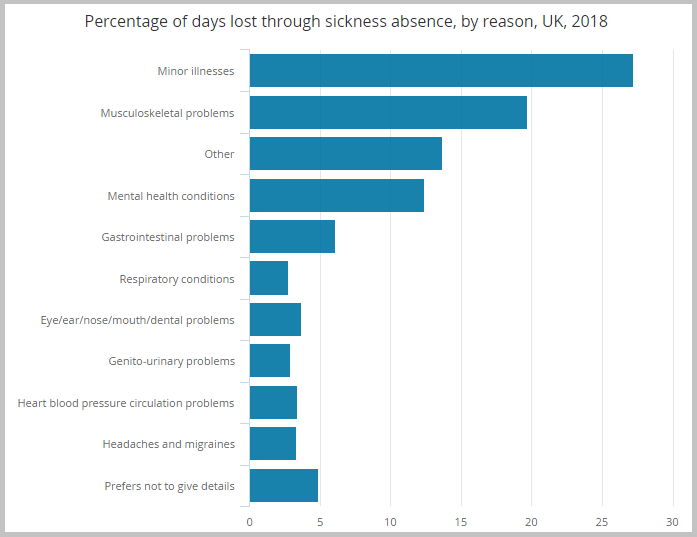 "I just wanted to say that I think the service you provide is fantastic! You all play a major part in helping me manage my fibromyalgia related pain – it means I'm less dependent on pain killers and can remain mobile. I can't thank you all enough!"

– I Bunting, Nottingham City Council
Benefits of Office Massage
Advantages for Your Organisation –
We reduce work-related stress and absenteeism
Our visits improve productivity and profitability
Revitalising each individuals' body and mind motivates your organisation as a whole
We clearly demonstrate your support for each employee's health
It is an excellent reflection on how your company is run to your clients
Continual investment in your teams' wellbeing enhances loyalty towards you as an employer and is a low-cost way to increase staff retention
A great way to create a draw when recruiting for new staff
We act as an "early warning" system for people who may need other support or intervention to avoid more serious physical or mental issues
More Benefits for your People –
Massage resolves muscular aches and pains related to working posture or long term injuries
We improve circulation and lymphatic flow to improve the health of your tissues
It assists in the removal of metabolic waste after exercise or when being sedentary
Massage can remodel and break down scar tissue
Each individual receives bespoke advice, which builds a healthy ethos across the business
Our visits promote a wider awareness of health, lifestyle and mental resilience
We can increase concentration levels and creativity for problem solving
You create a more relaxed and happier working environment for all
How it Works
Our qualified therapists work to break down knots and tension in the back, neck, shoulders and arms, giving each client 15, 20 or 30 minutes to relax and recharge. Each therapist can see between 2, 3 or 4 people in an hour depending on duration.  We can provide single or multiple therapists per visit depending on demand.
We bring everything we need, including a comfortable ergonomic massage chair and soothing music.  We're very flexible and can work anywhere from a public space, to a quiet corner of the office or a small meeting room.
"The massages were a great success at our event (I even managed to have one myself which was lovely!) – I'm keen to have them again at our future events for the whole day instead of just the lunch break as they are so popular."

– R. Aucott, Browne Jacobsson LLP
Why Choose Us?
Our therapists have a passion for good health and stress management, combined with a positive attitude and vibrant personality.  We work with your team ensuring minimal disturbance to the office routine.
We get a real buzz helping our clients to bring the very best from their teams – because everyone feels the benefit of wellbeing at work!
Massage Rates
We charge a simple hourly rate – There's no other additional or hidden charges such as administration and no minimum contract – If you like us, we'll work well, and if it's not the right fit, we respect that too!
Please Contact Us for a no obligation free quote – Our single sessions are extremely competitive, plus we offer generous discounts for regular bookings.
We cover the whole of the UK – Drop us a line using the form below to learn how we can inspire your people to achieve their potential.