A growing body of evidence supports mindfulness as being an effective and long-lasting method to improve wellbeing and life satisfaction.
Stress and mental health are significant business concerns both from employee feedback and sickness-absence data for many organisations.
Mindfulness training has acknowledged and purported benefits in these and other wellbeing areas, all impacting on employee engagement and performance in the workplace.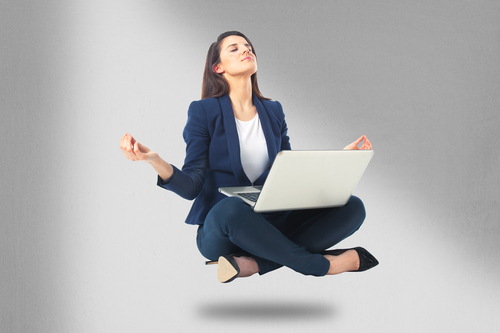 "I found the overall workshop great because I started off with zero knowledge and came out with an exercise that I could start practising. The trainer was also FANTASTIC!"

– S. Thompson, Equifax UK
What is Mindfulness?
Mindfulness is about keeping your attention, in a compassionate, non-judgemental way on the here and now.  This includes both your internal and external environments.  By repeatedly observing yourself and the world around you, you are less likely to become worried or stressed about things that are currently out of your control.
You don't need to empty your mind of all thoughts, instead you are shifting your attention to now, so your mind is really taking in the present.  You can practice mindfulness just sat at your desk – in fact we're hoping you will! 
Incorporating a few minutes of mindfulness at regular intervals throughout your day is often the most beneficial way to practice mindfulness on an ongoing basis.
The approaches are an integration of ancient Buddhist practices and philosophy plus current psychological understanding and knowledge, and have no religious context at all.
Mindfulness helps in pragmatic, practical ways which include bringing attention to the breath and the body during stillness and movement.
"The most interesting thing for me was the different types of meditation available with the walk-through of each type."

– C. Dickinson, Siemens Metering and Communication
Mindfulness training is happening right now and achieving outstanding results!
Mindfulness is recommended by the National Institute for Health and Care Excellence (NICE) as a way to prevent depression in people who have had three or more bouts of depression in the past.
In NHS Doncaster, for example, IAPT patients taking the 'Be Mindful' online course are reporting average reductions of 42% in depression and 40% in anxiety.
In the workplace, companies such as BT and AIG are reporting even better results when offering their staff mindfulness training as part of wellbeing initiatives.
In a research study by Oxford University (published in BMJ Open) there were average reductions of 57% in depression and 58% in anxiety for completers of the Be Mindful online course.
Our Credibility
We are extremely experienced practitioners who have many years' experience and success in helping people to deal with a variety of issues such as stress, anxiety, insomnia, weight loss and pregnancy.
We have delivered mindfulness sessions across the UK for many companies including Siemens Plc, Equifax UK, Smurfit Kappa and Domestic & General.
"The mindfulness session delivered was utterly effective – if it managed to get me to calm down and speak slowly and quietly, it will work on anyone! I found my productivity greatly increased upon returning on the floor – Better focus, clearer thought process and greater ability to control conversations."

– A. Shah, Domestic & General
Our Courses
We can offer any duration of course, from 60 minutes to a full day.  We can also offer multiple visits after an "Introduction to Mindfulness" to further explore and embed the benefits.
Below is an outline of a typical three week course –
Session 1 – 'Waking up to the autopilot' – We look at the ways in which we generally live our lives without awareness and ways of
countering this. We also look at further ways of bringing greater mindfulness and a spirit of curiosity into everyday activities (eating, showering, walking, etc.). Practices taught: the body scan and mindful movement.
Session 2 – 'Tuning into thoughts and feelings' – We look at how mindfulness can enable you to develop greater self-knowledge, as well as
the capacity to step back from your thoughts and feelings and not be so governed by them.
Practices taught: mindfulness of breathing and working with difficult thoughts.
Session 3 – 'Mindfulness in daily life' – We look at ways of fitting in mindfulness to our daily lives and using techniques to respond rather than react to situations. Practices taught: 3-minute breathing space and kindness meditation.
Below is an example itinerary for a typical three-hour course –
Mindfulness Grounding Practice
Practice & Inquiry (Exploring Mindful Awareness)
What is Mindfulness (theory) + Discussion
Benefits of Mindfulness to Health and Wellbeing
Reading (Habitual Patterns) Autobiography in Five Short Chapters and Discussion about Breaking Habitual Cycles
Abdominal Breathing and Inquiry- Neuroscience
Identifying Stressors and Developing Mindfulness Strategies to Alleviate Stress/Brain Training
STOP Technique (Coping Strategy) to take away on laminated card
Using Mindfulness at Work to Support Yourself and Build Positive Working Relationships
Body Scan practice (with handout)
Closing Q&As
"I already had a brief understanding of what mindfulness is, but I found the practical meditations and information on how to practice in everyday life really useful. I feel inspired to try every day!"

– C. Jones, TDX Group
Supporting Resources
Participants will be provided with a laminated mindfulness technique to take home as an aide memoire
An education pack with information on the practices and how to incorporate mindfulness into daily life
A closed Facebook group to share questions and experiences is set up for each training cohort with a moderator who can answer questions when they get specific – a perfect way for people who completed the course to continue the conversation.
Optional resources (everyone loves a freebie!): mindfulness colouring books, USBs with supporting info, branded stress balls
Mindfulness is here to stay – Join the many others who are offering mindfulness in their organisation and achieving life-changing results!
We cover the whole of the UK – Drop us a line using the form below to learn how we can inspire your people to achieve their potential.